The Day Every Deer Hunter Dreads
BY TODD REISSMANN
The last day of the Wisconsin bow hunt was a perfect day to hunt, and, as always, it was accompanied by a sense of dread. The temperature was 31 degrees but seemed like 80, a far cry from last week's hunt when it struggled to reach five above. As I walked to my stand, the number of fresh deer tracks in the snow gave me hope that I might yet tag another deer for the freezer.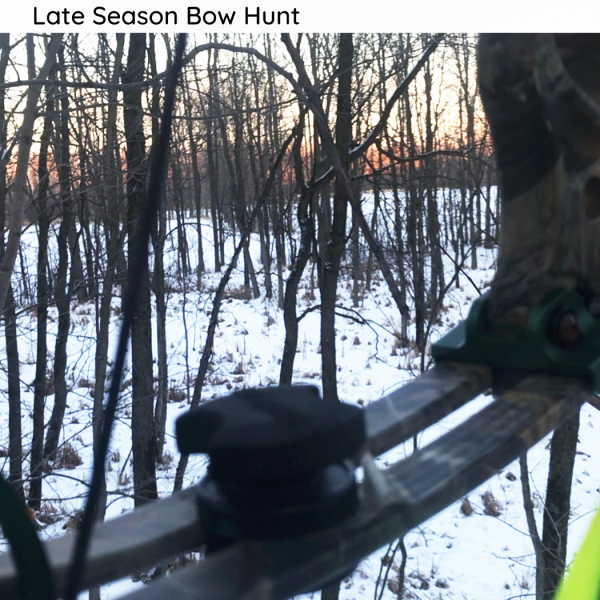 That opportunity was not long in coming. As I fastened my stand's safety harness to the tree, I suddenly saw movement. A doe, 60 yards away, headed for a nearby field. Almost instantly, she disappeared over the hills, and I settled in to wait.
From the vantage point of my stand, 15 feet up from the ground, I absorbed the beauty of my surroundings. Today was the last time this season I would sit on a tiny seat, my back against a rough tree and yet feel as comfortable as any man could. No cell phone. No Facebook. No distractions. Just nature and all it had to offer. Up here I could relax and let life's troubles subside for a bit.
Later that day, as dusk approached and the temperature fell, eight deer appeared, one after another, and headed in my direction. Probably all does but tough to tell with the trees and limbs. They abruptly stopped and looked to the field. My eyes followed and there it was - a huge deer. I am sure it was a buck but I could not make out the rack.
I quickly got up from my seat, bow in my left hand, as I tried to stay calm and warm now that my hand warmers were in my pockets. Two more deer appeared. I waited for what seemed like hours but was probably only two minutes. The buck disappeared and the pack of does followed in the same direction.
Evening was drawing near and with it quitting time. Seemingly out of nowhere one more doe came into sight. She headed in the direction of the other does, but at the last second stopped. It was a 40-yard shot. Too far.
I waited for her to come the extra 10 yards closer that I needed for a clean shot. She did not oblige and continued toward the other deer. Gone. My body was shaking, but not from the cold. This is why I hunt. This feeling. If you have never spent time in a deer stand, you can't appreciate that exhilaration. I felt alive. I felt great. Still, a wave of sadness came over me as I reached for the rope. I tied it to my bow and lowered it to the ground. Before climbing down, I took one last gaze from my stand into the dusk.
The day I dread every year had arrived - the last day of bow season. September, and with it the start of the next cycle of bow hunting and all the wonders of nature that accompany it, cannot come soon enough.
Todd Reissmann has been bow hunting since leaving the Air Force and moving back to Wisconsin in 1987. He has been married for 33 years to Renee. They have two girls and reside in Greenville Wisconsin.