"THE RUT"
By Jim Olsson
This is only my opinion based on countless days in the field in pursuit of big bucks. As we move deeper into the rut things become more and more intense, for us and the deer. There are definitely does being bred now, just as certainly as there are some that aren't ready. There are some bucks that are chasing and there are some that aren't. The rut is a natural process and no moon phase or weather pattern can determine when a doe goes into heat or if a big buck will chase her. Let's talk about the things that we observe that give us the cues that the "RUT" is on.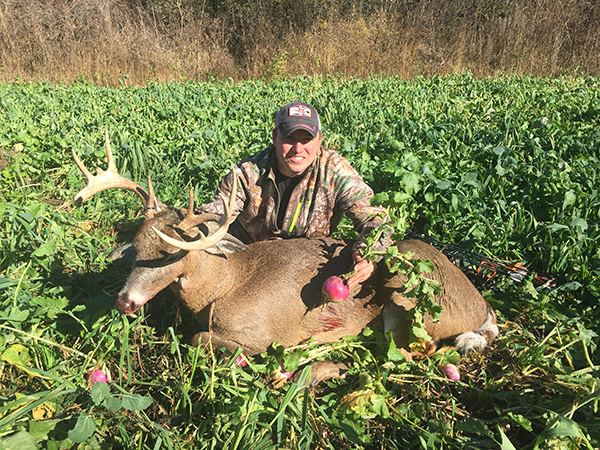 Jim Olsson took this buck, Sunday morning, November 8.
Cruising bucks give us the first inkling that something is about to happen. They may show up on trail camera and you've never seen this particular buck before, they may show up at odd times when you don't expect to see them. These are typically young deer looking for that first doe. It's a part of the rut but not the good part.Next we see bucks bumping does and does that aren't receptive. This starts to happen in October and will continue until does become receptive. This is when I typically feel the does get very skittish as they aren't receptive but constantly pressured by bucks looking for love.
The time that we really all look forward to is the few days right before does are ready to breed. Does begin to come into estrous and the scent is unmistakable to any buck that catches a whiff. This doe can draw bucks from miles away under the right conditions and if she's near your stand you're in for one hell of a hunt. Your neighbor may be sitting on the next forty and say what an uneventful day he had because he never saw a deer while you had the hunt of your life.
The RUT doesn't mean that every time you go in the woods a big buck is going to stroll by. It does help get the big bucks out during daylight and gives us all a better chance to kill a big one.Finally the breeding phase of the rut finds bucks locked onto a receptive doe and sticking by her for the entire 24 to 48 hours that she is receptive. This is lock down and can happen over and over throughout the rut as does become receptive.
I'm not a biologist but I hope this helps those of you who have asked questions about what is really happening.
Editor's Note: Jim Olsson is on the Pro Staff of Antler King.