Kill Bucks and Save Bucks
New Barnett Recruit Series compound crossbows offer exceptional features, technology and performance at a price any hunter can afford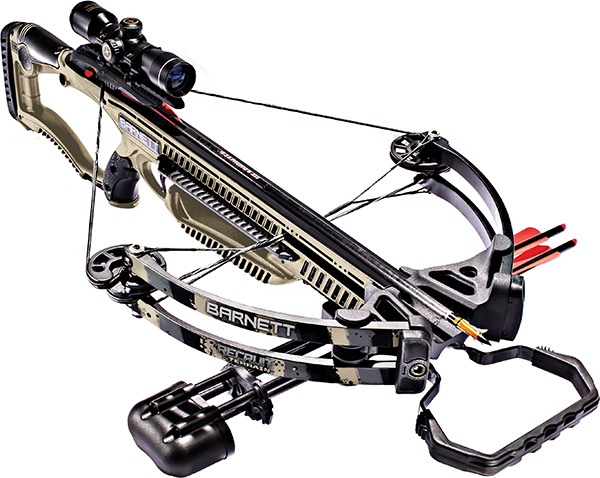 TARPON SPRINGS, FL (August 16, 2017) – Crossbows continue to create new opportunities for hunters. An increasing number of states permit the use of crossbows each year, and firearms hunters are flocking to these accurate and reliable weapons to extend and expand their hunting experiences.
Barnett pioneered the modern hunting crossbow in 1962, and has been innovating better, faster and safer crossbows ever since. Today, Barnett makes the most complete line of quality hunting crossbows in the world, and they do it right here in the USA.
Thanks to Barnett's significant engineering and manufacturing expertise, hunters don't have to spend a lot of bucks to hunt bucks with a quality Barnett crossbow. Consider the company's incredibly value-laden Recruit Series. Available in two distinct sub-models – the Recruit Terrain and the Recruit Tactical – these hardcore compound hunting crossbows offer unprecedented levels of performance and technology for a surprisingly modest MSRP of just $299.99.
Recruit Series compound crossbows begin with proven Barnett design. Featuring ergonomic, easy-handling lightweight composite stocks, magnesium risers, custom composite limbs and an anti-vibration foot stirrup, each Recruit Series crossbow puts performance and safety first. A pass-through foregrip and finger safety reminders keep the hunter's hands out of harm's way, while nock sensors and ADF (anti-dry fire) keep a spring-loaded safety bar in place until the arrow is properly seated, protecting the user and the bow from accidental dry fire. A Soft-Lok floating bristle arrow retainer ensures that a loaded arrow remains safely in place until go-time.
And when it is time to ease off the safety, hunters shouldering either Recruit Series bow will appreciate that their trigger is the same one found on Barnett's most expensive performance models. It's from TriggerTech, and it's the finest trigger system found on any factory crossbow. The Frictionless Release Technology™ creates a free-floating roller between the sear and the trigger, instilling confidence and boosting accuracy through an incredibly smooth and light three-pound pull with zero creep.
How much performance can you buy for less than $300? A lot. Weighing in at a feathery 6.4 pounds, Recruit Series crossbows deliver commendable speeds up to 330 feet per second with a modest 140-pound draw weight. They assemble with a single bolt right out of the box, and come equipped with everything needed to take to the field, including quality optics mounted on a versatile 7/8" Picatinny rail, lightweight quiver with two Headhunter arrows, a rope-cocking device and lubrication wax.
Barnett Recruit Terrain
Tackle any game on any terrain with the Recruit Terrain. Featuring a solid desert tan stock, the Recruit Terrain doesn't have a pattern like other crossbows, because it isn't for just any hunter; it's for hunters who forge their own path with an understated confidence and a clear view of their objectives. The Recruit Terrain comes equipped with a 4x32 mm multi-reticle scope for effective targeting in any crossbow-hunting situation.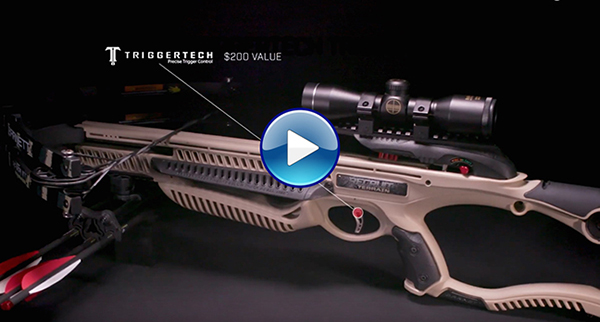 Barnett Recruit Tactical
Designed for those who approach life with a tactical mindset, the Recruit Tactical appeals to hunters who prefer to fly under the radar while tackling every task with vigilance. Go dark, with Recruit Tactical's matte black finish, while tasteful red and carbon fiber accents provide subtle clues to your bow's significant performance. Speaking of red, a premium red dot sight allows users to acquire targets fast before unleashing Recruit Tactical's compelling accuracy.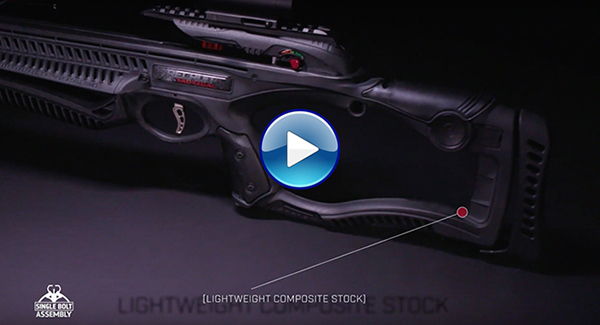 - Insert Recruit Tactical Video Screen Grab - https://www.youtube.com/watch?v=VcPOnJHNWVY
Barnett Recruit Series Compound Crossbow Specifications
• Recruit Terrain (Desert Tan) / Model # 78125 / UPC # 0 42609 78125 6
• Recruit Tactical (Black) / Model # 78134 / UPC # 0 42609 78134 8
• Speed: 330 fps (using a 380-grain arrow)
• Kinetic Energy: 91.9 ft. lbs.
• Weight: 6.4 lbs.
• Draw Weight: 140 lbs.
• Power Stroke: 12.5 in.
• Dimensions: 34.25"L x 18.25"W
• Axle to Axle Dimensions: 16.125 in.
• Made in the USA
• MSRP: $299.99
Barnett Recruit Series Compound Crossbow Features
• Single Bolt Assembly
• Lightweight Composite Stock
• Magnesium Riser
• Custom Composite Limbs
• TriggerTech Frictionless Release Technology
• Anti-Dry Fire (ADF) Trigger System
• Metal Injection Molded (MIM) Trigger
• 4 x 32mm Multi-Reticle Scope (Recruit Terrain / Model # 78125)
• Premium Red Dot Sight (Recruit Tactical / Model # 78134)
• 7/8" Picatinny Rails
• Soft-Lok Floating Bristle Arrow Retainer
• Crank Cocking Device Compatible (Rope Cocking Device Included)
• Finger Safety Reminders
• Pass-Through Foregrip
• Anti-Vibration Foot Stirrup
• Lightweight Quiver
• Two 20" Headhunter Arrows
• Lubrication Wax
Don't spend a lot of bucks to kill bucks… or any other game for that matter. Barnett's heritage of manufacturing quality performance crossbows comes clearly into view with its affordable Recruit Series compound crossbows. Terrain or Tactical, these killer crossbows allow any hunter to #GetAfterIt with steadfast confidence… and with plenty of cash left in his or her wallet.
Barnett Outdoors, LLC
Barnett Outdoors, LLC is the world's leading manufacturer of crossbow, archery and slingshot products. The original crossbow pioneers, Barnett is built on the unrelenting delivery of trailblazing solutions to those daring enough to take on new challenges and adventures. To these individuals, Barnett offers a legacy of industry firsts, along with the promise of restless innovation to always stay ahead of their needs. Barnett is owned by Plano Synergy Holdings – an industry leader at the helm of some of the top hunting and fishing brands. With this partnership, Barnett will continue its legacy of offering high-quality, affordable products that are always ahead of the curve. Learn more at Barnettcrossbows.com.