Hunting On Our Side of the Fence
Hunting On Our Side of the Fence
By: Joe and Laurie Ramsey 9-21-2015
For most hunters, we just get a license and grab our gear. We head off through the tall grass and into the deep paths acorn woods has to offer. Our hope of getting that whitetail buck is at hand. Kevin Zirbel, Mosinee, Navy veteran, was able to hunt 30 years ago. Back then, he was blessed with meat from a one horned (6" long) buck from deep in a cedar swamp. Kevin suffered from an accident in 1986, which caused much change for him. Since then, Kevin has needed assistance when he is able to get out in the woods. He unfortunately has been unsuccessful with harvesting a deer since his first and only one horned buck.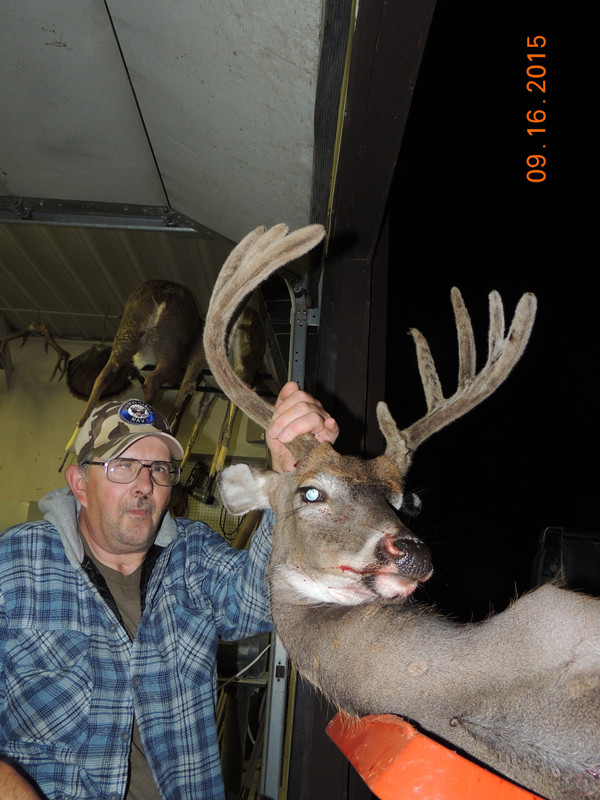 Empowered Dream Hunts Inc. founder, Joe Ramsey, took Kevin out last Sunday 9-13-15 to sight in his gun. His dream hunt was then scheduled once he was proficient and confident with his firearm. Monday, 9-14-15, Joe, and his two boys took the new hunting trailer and Action Trakchair to Prime Hunt Deer Farm. Wednesday, 9-16-15, Joe Ramsey and Jeff Wistrom picked up Kevin, and headed out for his hunt. In 2 ½ hours of sitting in the hunting blind, Kevin, Joe, and Jeff enjoyed wood ducks, deer, and blue jays. The deer of choice came out, however, Kevin was unable to get a shot off, because a wood duck chased it away. With the night quickly approaching and thoughts that the hunt would be done for the night, Jeff whispered, "That buck is back." Kevin started to get himself ready, and Joe helped him with the lead sled getting it adjusted to the right spot. After some long minutes of patience, the buck presented a shot, just as camera light faded. Kevin took a deep breath and pulled the trigger. All of a sudden, both Kevin and Jeff shout, "The buck is down!" Kevin's pride and enjoyment is evident in his picture with an 11 point buck. Sharon, Kevin's wife expressed, "I want all of you to know how happy you made Kevin. It's such a blessing to know that there are such wonderful people that will actually take the time and compassion to help Kevin once again hunt."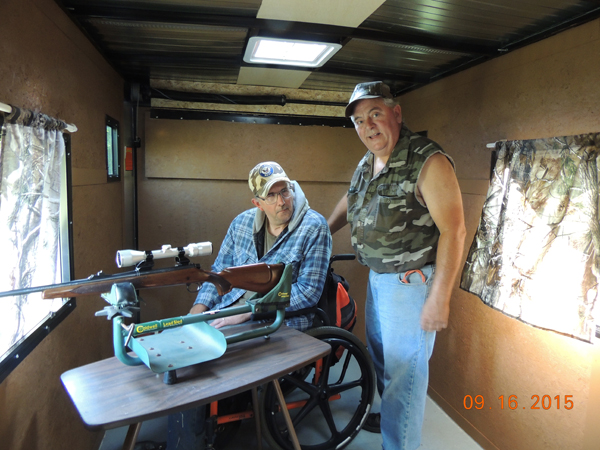 Empowered Dream Hunts Inc. also provided a hunt to another recipient on 9-18-15 from New London, Wisconsin. Jed, an 11 year old boy, was diagnosed with a rare severe kidney disease. His body is unable to sustain an impact from a deer rifle. Tim, Jed's dad, assisted him with practicing shooting with a 22 caliber rifle, stabilizing device, and shooting tomatoes. They took 2 shots with a 243, which took a toll on Jed's body. Jed still wanted to try, so Tim called Joe and said that Jed was ready. Tim and Leah, with their children checked in at The Grand Lodge. Tim and Jed headed to Prime Hunt with Joe, while Leah and their daughter, Ruby enjoyed the waterpark with Laurie Ramsey, Joey and Leo. It was important to provide this opportunity for Jed, as it was his wish, but also to provide a special weekend for the family. Jed, Tim, Joe, Brian Wolslegel, and Hunter sat together from 4:30 p.m., until 6:45p.m. in a 15 foot elevated tower stand overlooking soybean and alfalfa fields. The evening had everything to offer. Tim (dad) forgot the stabilizing device by the shed, Joe brought 1 back up battery for the video camera, and no one could figure out which way to set Jed and his device up for the best shot. With lots of wild turkeys and bucks that were out of our price range, Jed learned patience. Jed then noticed two nice bucks in the soy bean field. With the okay from Brian, our guide, Jed learned that the green light was on for an opportunity to harvest one of these nice bucks. Once we all thought the deer would be coming into range, all the deer took off and cleared the field. At this point, one could see that Jed thought the evening of his hunt would be coming to an end. Hunter whispered, "There is a buck coming out of the woods where we first had the shooting device set up." Brian quietly helped Jed, while Tim rearranged Jed's hunting device. Joe collected 4 cushions so Jed was at the right height to get the crosshairs on his first whitetail buck. Tim whispered, "Take your time and trust your shot." BANG went Jed's 243, and the buck ran off into the woods. Everyone waited 45 minutes and wondered if the deer was down. More hunters that were hunting on the ranch that night came to help Jed track his buck. The longer it took to track, the more doubt set in that Jed might have hit his deer. Then, all of a sudden, someone shouted in the woods, "Does anyone want to see a nice buck?" Everyone took off running with flashlights, and those that didn't have one stumbled along in the dark. Jed was all smiles when he saw his 9 pointer.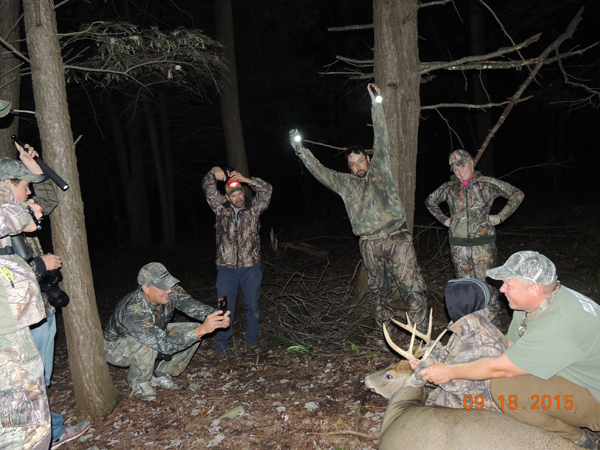 Empowered Dream Hunts Inc. is very thankful for all of the supporters who helped make these hunts and experiences life changing. The support of the community and surrounding areas, have been a blessing to our organization, recipients, and their families. Please visit our Facebook page and website for updates as the hunting season progresses. October 3rd-11th is the 9 day disabled hunt in Wisconsin. Our hunting blind and Action Trakchair will make it easier for these hunters to enjoy their time in the woods. Be safe and always tell someone where you are hunting.