Gary Greene's Memories from an Old Hunter #5
When I was a child, I wished I was born in the days of Davy Crockett. I believed life would have been grand, if I could have shared adventures with the 1950's, Walt Disney's TV character. Like almost every kid in America, I wanted so badly to wear one of those coonskin caps. My mother wouldn't allow it, because I would, "Catch some scalp disease." Later in the decade, my adventures expanded to include 26, prime time, TV westerns. Personal favorites of mine were: Rawhide with Clint Eastwood, and Wanted: Dead or Alive with Steve McQueen. I've been told, I resembled Steve McQueen. I don't recall who said it, but thank you for that. I became hooked on the history of the American West.
As a child on family trips, traveling the western states, the bison made the biggest impression on me. The American Buffalo (Bison) is such a majestic animal, and to think that at their peak, numbers reaching 60 million roamed our country. Since that early childhood period, I have always wanted to harvest a bison. Finally, a few years ago, I got my chance with open range bison on the rolling hills in South Dakota. If you visualize Kevin Costner in "Dances with Wolves," with rifle in hand, on horseback, chasing stampeding bison, you are nowhere close to what actually happened on my hunt.
A wise old hunter once told me, that as a hunter, you need to make four friends and take them along on all your hunting trips. They should be a veterinarian, a gunsmith, a taxidermist and a liquor salesman. Well, two of my closest hunting partners, Brian and his son Jesse are outstanding taxidermists.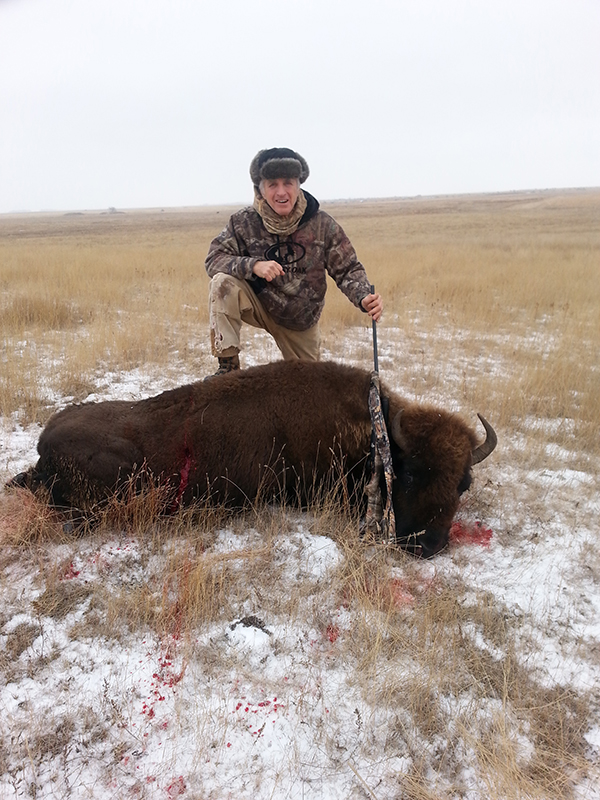 At a late stage in his life, my father decided he wanted to try his hand at taxidermy. He claimed that a man at his Standard Oil gas station, knew someone, who knew someone that worked in taxidermy at the Milwaukee County Museum. How my dad did it, I'm not quite sure, but he got himself in at the museum learning from the professionals. I supplied a couple of Fox Squirrels to be his Guinea Pigs. The first project he brought home, resembled, now, I'm trying to put into words my description of his first squirrel. I believe my best comparison would be one of those real, stuffed, little alligators that you could buy in Florida for five bucks, possibly wearing a top hat and maybe smoking a cigar. Needless to say, he didn't master taxidermy on his first try. His future efforts became quite good. I wish I had saved those mounts. During my not so bright college years, I sold them at rummage sales
Getting back to the hunt, Brian and I planned a combination wild pheasant/bison hunt. I opted to shoot a cow bison, which was somewhat less expensive, and with younger, tender meat. Brian, being the taxidermist, chose to shoot a mature bull with the plans of doing his own full chest mount. I didn't wish to further burden Brian, and planned on going with a South Dakota taxidermist, and a European mount and a tanned hide. Around that day of pursuing bison, we used my three black labs, chasing down the late season, running roosters. It took over three hours of walking, and glassing the far hills, before we came across two cows, so I was up first.
Let me add, outside of shooting a 22, I have only fired a rifle in practice for this hunt. I am a wing shooter, and not a big game hunter. I took my son Nate's Remington, 300 Win Mag with some donated bullets from my buddy Jim. To say I was not real sure of myself is a solid understatement. The two cow bison strolled into a valley, as we crawled up the side a fairly steep hill to get in to position for a shot. We approached the top of the hill, and the bison had changed direction and basically came toward us. The target was now at 100 yards. The guide had me wait, because the two cows were overlapping and he didn't want me possibly taking down both animals. I figure he might have sensed I was not a veteran big game hunter. Eventually, I took aim and put the shot where I was told. The bison jumped, hesitated, then turned and charged us. As this occurred, I was bumbling with my rifle to eject and load another shell. Not ashamed to say, but I am embarrassed to add, Brian aided me with the process. The breathing heavily, blood spitting bison stopped her charge at about 50 yards. I fired a second round and she stumbled and went down. I had my bucket list bison. Minutes later, after the other bison left the scene, we took pictures of me with my 900 pound animal. I was very proud, and took a pose with my bison, that I had seen in countless pictures with the kills of Teddy Roosevelt, Ernest Hemmingway and George Armstrong Custer. I intentionally wore my fur (almost coonskin) cap.
I was riding pretty high, until hours later, when Brian harvested his 1200 pound trophy bull bison. The animal was almost beyond description. The horns were three times bigger than those of the bison I shot. Alone, the big black head was about half the size of my entire animal. The chest hair was so dominate and completely lacking on my animal. Brian posed with his bull bison. His pictures were so very impressive.
That evening, around the dinner table, using my expertise, I came up with a solid comparison between our two harvested bison. My 900 pound cow bison resembled the drabness of a hen pheasant and Brian's 1200 pound giant bull bison resembled the flamboyant, rooster Ringneck with two inch spurs and a 28 inch tail feather. We headed back to Wisconsin as two tired hunters and three exhausted dogs, with a trailer consisting of 700 pounds of bison meat, a 300 pound bull bison head and 25 pheasants.
A year and a half later, after a handful of my mildly, threatening calls, I received my bison skull and tanned hide in the mail. I was excited, as I opened the large box on the kitchen counter. The skull was wrapped inside the hide. As I unraveled the hide, hundreds of dead, white, flesh eating beetles fell all over the counter and kitchen floor. The beetles looked very much like maggots. Chris, my loving wife, was not real pleased with the entire situation!
Finally, I have been attempting to retrace that previously stated, comparison of looks between actor Steve McQueen and myself. Sadly, I am able remember those words came from the lips of my mother. She said that both Steve and I had triangle shaped heads. I don't believe that was a compliment.