Black Cloud On The Horizon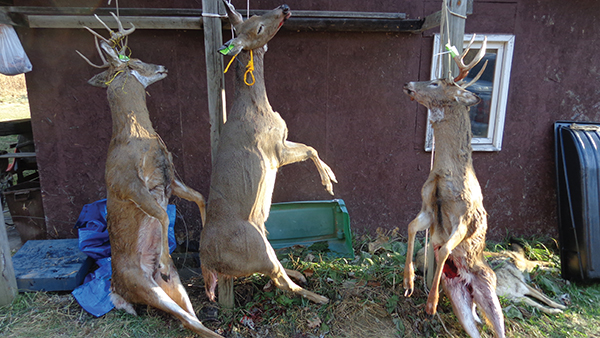 Times were good for deer hunters prior to the turn of the century, but a black cloud was on the horizon.
Lee Gatzke
Disease and politics combine to threaten deer hunting heritage
When I began deer hunting, Wisconsin's archery license cost me one dollar, winterkill took more deer than hunters did, and wolves were considered extinct in this state. Back then the DNR was an independent agency assigned to look after the welfare of Wisconsin's natural resources. To find deer you headed north, since southern Wisconsin's deer population was sparse with some counties having no open season.
In the '80s and '90s winters became milder rendering winter kill the exception rather than the norm. Deer herds grew and expanded statewide; hunters killed record amounts of deer. An unforeseen storm lay just ahead, though, in the form of politics and disease.
In the '90s, then-Governor Tommy Thompson mandated the DNR would now report to the governor who would assert political control over it. No longer would Wisconsin have a group of independent professionals managing our natural resources. Politicians would now control its fate.
In 2002 Chronic Wasting Disease paid us a visit and is now in the process of devastating our deer population. Politics and a disease with no cure in sight have combined to take us into a period of uncertainty with regards as to how to save our deer herd.
Dr. James Kroll, a well-respected biologist, was appointed Deer Czar by Scott Walker to cure the ills of a hunting public who has grown weary of a DNR that has been seen as ineffective in handling the management of our deer herd. The same DNR that Scott Walker and all the other governors going back to Tommy Thompson have been responsible for.
Dr. Kroll and his committee came up with many recommendations for managing our deer. Among them was a warning that scientific research was crucial to combating CWD. Our governor has opted to ignore this advice and decided to cut DNR staff scientist positions and reduce funding with regards to CWD-related efforts. Scientific research is seen by many as the only hope in stopping the advance of CWD, but our governor has thrown in the towel just when we need him to increase both funding and research if we have any hope of winning this battle.
Over half the counties in Wisconsin are dealing with CWD, which is on the rise. In 2002 we tested 40,000 deer for the disease; in 2015 we tested around 3100. Despite decreased testing due to budget cutbacks, the DNR has determined that CWD prevalence in the core area of Dane and Iowa counties has gone from 8% to 25% in adult bucks. Expect that number to go to 50% or higher in a few years in the core area with the remainder of the state headed in that direction in the near future.
CWD is always fatal and will devastate the herd. Is the governor cutting back on CWD funding in hopes that testing will vanish and the hunting public will not hear the bad news? Why is he not listening to the man he hired as Deer Czar and put more funding and effort into doing additional research?
We, the hunting public, cannot allow our legislators to bury their heads in the sand while CWD wipes out our deer herd. They must fund research to find a cure for CWD if we have any hope of passing on our deer hunting heritage to our children. Politicians wanted control over the DNR and took it 20 years ago. Now they must be held responsible for seeing to it the DNR has the tools and support to fight CWD.
Lee Gatzke is co-owner of NextBuk Outdoors, producers of tactical hunting videos. In grade school he chased rabbits with his homemade bow and arrows, which lead to a passion for hunting bigger game all over the Midwest and western states. In between hunting seasons Lee is usually scouting for his next buck.