Shooting Outside
By: Jenna Heil
Whale-Tales Prostaff
Now that it's summer and warm out, you don't have to go to your local archery shop or club all the time to shoot. You can shoot outside and still have lots of fun . With everybody's busy schedules you sometimes cannot cram in time to shoot. Shooting outside is a fun and easy thing to do!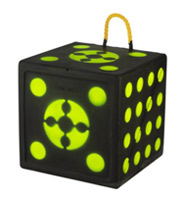 I shoot outside at home all the time. Make sure you always practice your archery safety. These things include
Safe place to shoot
Always have an adult with you at all times
Know your target and beyond
Make sure there aren't any people or pets around you while you're shooting
Have a backstop (if possible) in case you miss the target
There are many archery targets from block targets, to homemade burlap targets made out of old clothes. How you make this target is you first:
Get a burlap bag at a feed mill store
Stuff it with old clothes you don't need or are throwing away
Lastly you sew the end shut
That is an inexpensive and easy way to make a target.
To have a backstop my dad built a little shack for targets to rest in. It was a way to make sure you don't lose arrows if you miss the target and to protect the target. Then if you have a block target you can set it on an old stool or chair and if you have a bag target, like our burlap target, you can hang it with a sturdy string.
Remember archery takes lots of practice and patience. You need to shoot as often as you can. With backyard practicing, you can practice more often. I try to shoot at home 3-5 days a week. Some days I will go out and just shoot as little as 20 arrows, other days I will shoot 60 or more times. And remember with lots of backyard practicing can help you shoot your way to bullsyes.