A Long Shot: Practice allows archer to beat the odds
by Dick Ellis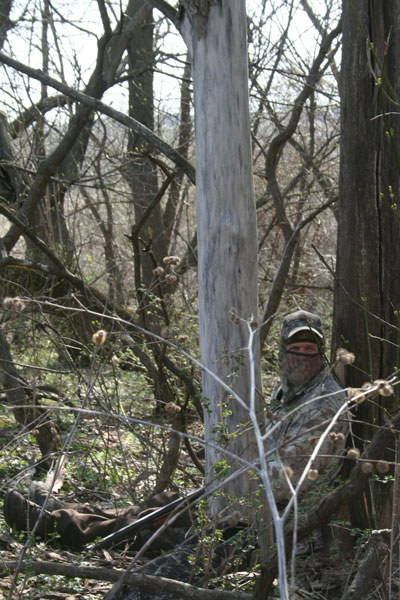 Just what are the odds? That is the mental question that should drive every hunter's decision before he elects to squeeze a trigger or release an arrow on a deer or turkey in the fields of Wisconsin. What are the odds of a hit to the vitals and a quick kill?
If the hunter is confident that he is proficient at the distance contemplated with a firearm or bow and the animal will die fast, the shot should be taken. If he is uncertain, it shouldn't. Pre-season practice allows the hunter to know his limitations and make the right decision. The more practice, the higher the level of expertise, and the less the margin of error that the wrong decision will be made and ultimately an animal wounded. As stated repeatedly in this column over the years, with the sole exception of safety, gaining that proficiency prior to hunting, knowing personal limitations, and then recovery of any hit bird or animal are the hunter's greatest responsibilities in the field.
[Photo: Dick Ellis hunkers down on stand, beckons with a diaphragm mouth call and waits for a shot at a Tom during a spring turkey hunt in grant County. (Photo by John Ellis)]
So then, was it a responsible decision taken by Waukesha County resident Dan Flood when he drew on a gobbler at 64 yards with his bow in northern Wisconsin's Price County during period three of the spring turkey hunt? What were the odds of the quick kill? And, knowing that young and impressionable hunters read outdoor articles is it responsible to spotlight the story in this column? Under almost any other conditions, the story wouldn't even be considered.
But…the odds of my next-door neighbor and friend Dan Flood being in his backyard a minimum of five days a week shooting at targets set from 20 yards to 65 yards since 2005 wasn't really a question at all. Flood would be there, across the seasons, in the snow and rain and cold and heat, with the "thud" "thud" "thud" of arrows meeting targets recording the long, slow progression of one archer's journey from beginner to expert.
One can "practice poorly", at anything. But Flood's journey consisted of quality practice driven by a near addiction to the sport. He became a student of the game, or as he would say…a "nut." If he wasn't in the field, he was on the computer or at various archery centers of southeast Wisconsin to gain more knowledge of the best equipment including bows and sights, and the methods to improve his shooting. As he improved, deer and turkeys in Price County didn't stand much of a chance if he elected to take the shot.
With his brother Jim Flood, Dan made the 270 mile trip north to their 40 acre Price County property as April slid to May. Weather forecasts for rain meant that locating and tagging a gobbler in northern Wisconsin, not often an easy proposition, would probably need to be taken care of on Wednesday, or day one of season three. Dan came ready with a Mathews Switchback, Spot-Hogg Hogg-Itt sight and Carbon Express arrows tipped with Slick Tricks heads.
Hunting their own property on morning one, Dan and Jim discovered what would become routine gobbler behavior. Roosted Toms would respond to the hunters' hen calls and approach the ambush point, but "hang-up" or retreat at the sight of decoys.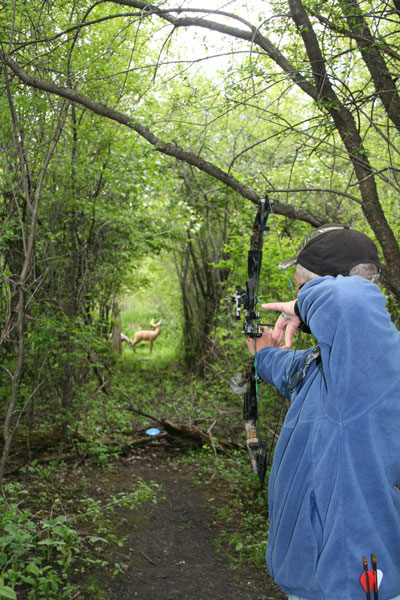 "That first bird came right in but took off when he saw the decoy," Flood said. "He got happy feet. That was it. We got a call from a neighbor that they had two birds tagged on their farm one mile away as the crow flies. We grabbed our double-bow blind and a cup of coffee and headed over there."
[Photo: Shooting at the Ojibwa range in Waukesha County to challenge his skill in front of the writer on 28 animal targets from raccoons to Elk set in field conditions at 20 to 55 yards, Dan Flood scored at perfect 280 points. The highest possible 10 points are awarded for arrows finding the kill zone within small, usually softball sized circles. (Photo by Dick Ellis)]
Setting the blind where Jim Flood had tagged a gobbler in 2007, the brothers began to call and converse with three "workable" Toms. "Jim and I play a game with calling combinations," Flood said. "He calls, I call and we don't wait more than seven to 10 minutes between calls at this time of year and that time of the morning. It was about 8:00 or 8:30 and we were competing with real hens. After one-half hour we saw the Tom's head coming over the hill at 80 yards. It was perfect. But he saw the decoy and hung up. He wanted that hen to come to him."
Similar scenarios would repeat themselves through the morning and into early afternoon. Active, boisterous Toms and hens made for an optimistic morning, but with the gobblers taking on extreme caution near "shot" time. Eventually, the woods quieted and Dan Flood elected to walk.
"Normally, I get one opportunity at a Tom during the spring hunt in northern Wisconsin," he said. "That's it. There was rain in the forecast and no gobbling, so I decided to walk. After about a half-mile I peeked around some pines and there were four Toms in a meadow. Two were strutting and all four eventually would be fanned out at 60 to 70 yards."
Flood placed his range finder on one gobbler and verified that it was at 64 yards, the exact distance that he had been extensively practicing at in southern Wisconsin. Flood waited for the bird to face away in full strut, drew the switchback, stepped from behind the pines, placed the pin where it needed to be and released the arrow.
"I've taken that shot literally 1,000 times," he said. "I knew I was going to hit him good. Very often, I'm going to hit a baseball at 60 yards. But nothing is guaranteed. Things can go wrong. I aimed here (pointing at the base of his neck). I hit him here (pointing an inch above). It almost severed his neck. He didn't go 10 yards."
Flood knows that his shooting decision will receive skepticism, even criticism. So do I, although I've seen Flood shoot so many often that this story was well under way even before receiving an invitation from my neighbor May 22 to join him at the Ojibwa Bowhunters Club in Waukesha County, where he is a member.
[Photo: Waukesha County resident Danny Flood made a calculated and well-practiced 64-yard shot on this 20 pound Tom Turkey in Price County. The gobbler had a 10-inch beard and one inch spurs. (Photo by Jim Flood)]
I followed Flood through the forest, where he shot at 28 three-dimensional animal targets from raccoons to Moose set in heavy foliage from 20 to 53 yards. A perfect score is 280 points, 10 points for each target earned by hitting a softball size circle in the kill zone. Flood scored 280. Our day ended when Flood sent each of three arrows into kill zone of an elk at 77 yards. His attempted shots at 100 yards, a distance he had never before challenged, placed the three arrows in a basketball sized circle, just to the left of the ultimate kill zone.
"I'm not trying to give people the impression that they should take a shot at a Tom like I did," Flood said. "I am not. They should not, unless they know they are going to make that shot. I knew I was going to hit him good. I felt confident that I was going to tag that bird. Under the conditions, it was my best opportunity."
The odds makers might call it a long-shot. And indeed it was. But when Dan Flood is the shooter and practice makes almost-perfect, the real odds are surely stacked squarely against the bird.
You can bet on it.
[This Dick Ellis column originally appeared on May 26, 2008]