West Town Archery Green Bay Bow Fishing...Hunting challenge, social sport
By Dick Ellis
The day was playing out like any other challenge that hunters surely face with enough time in the field. Not much was moving; it had been almost two hours since Rob Schaffhauser, Scott Heitman or I had drawn back our bow in the 17th West Town Archery Green Bay Carp Shoot and only one fish lay in the red canister purposely selected to hold hundreds of pounds of roughfish. That expectation, or at least the hope, wasn't playing out. And most of the 60 archers spread out over the vast water in pursuit of more fish were experiencing less than consistent shooting.
Sunday had dawned calm and clear over Green Bay June 3, with the promise of sweltering heat and eventual afternoon cloud cover. For the carp shooter pursuing post-spawn fish, cloud cover would be the enemy. A week or so prior to this annual competition held the first Sunday in June carp in spawn by the thousands breaking shallow surface water would have meant good shooting, and relatively easy pickins'. Bright sunshine and polaroid glasses would have been rendered non-essential. Not so Sunday.
Like all the fishing sports during this spring marked by unseasonably mild temperatures, spawn came early and fishermen, or hunters in this case, tried to adjust. In early afternoon, with that cloud cover beginning to blow in from the west, Schaffhauser's 16-foot Alumacraft was being pushed by a soft chop across deeper water of four to six feet. We were adjusting to conditions. We were hunting. And very suddenly enough carp were moving as singles or in pods a foot to two feet below the surface that Schaffhauser would soon drop a marker and repeat the drift with the same results in an area approximately 100 yards square.
For a bowfishing rookie like me, the challenge not only made the hunt better, it was almost uncanny that the carp were demonstrating the same wariness as any other prey. Our own adjustments as hunters of a fish savvy to the stalker's movement was to strip our bright shirts to match the sky, and to sit instead of stand to prevent our profile from spooking the target early.
"It's like any other hunting sport," said Schaffhauser, owner with three other brothers of West Town Archery; a business started in 1964 by their father, Al Schaffhauser and Uncle Ken Lenske at 72nd and North in Milwaukee. After relocating in 1982 to 68th and Burleigh, West Town landed in a brand new Brookfield location in 2011 at 4135 W. 126th Street complete with video and standard shooting ranges. "You see that dark spot or hear that whoosh and your heart jumps with an adrenalin rush."
Among an oasis of vegetation in a desert of deep water mud, a long dark shadow below the surface at 25 yards directly behind the boat pulled Schaffhauser's attention from soft conversation. Rising from his sitting position at the back of the Alumacraft, Schaffhauser drew the arrow to a familiar anchor point, and instinctively released the shaft as line unraveled from the reel mounted on the limb.
"That's a miss," he said, disappointment and delight blending on his voice due to the obvious size of the fish below the surface. "I don't think so," I said from my perch on the cooler wedged against the middle seat, my eyes glued to the rippled battle ground as the hunter assumed the position of beginning a hand-over-hand retrieve. As Schaffhauser pulled in slack, line ripping west toward the city of Green Bay verified the guess.
Rob Schaffhauser and the elusive 24 pound carp that eventually would earn 3rd place in the West Town Archery Bowfishing competition Sunday on Green Bay.
Rob Schaffhauser and Scott Heitman worked long and hard to find post-spawn carp, including this 24 pound fish that eventually would earn 3rd place in the West Town Archery Bowfishing competition Sunday on Green Bay.
The battle was a good one. A 24.6 pound carp will offer the good fight. Eventually, Schaffhauser with a little help from Heitman brought the fish in for a brief photo session. The fish was placed in the canister and after a continued stint of better fishing, our day ended early so we could assume our responsibilities at the landing, where weigh-ins and cash pay-outs would conclude the 17th Green Bay competition.
We were met at the landing by Rob's brother and business partner, Fred Schaffhauser, who with wife Mary and kids Ben and Rachel had pursued a family tradition, with several good fish to show for it. Mary, Rob said, is a perfect example of someone who doesn't want to hunt in the traditional sports but who has found enjoyment with the family in the bowfishing sports and challenge in honing her own archery shooting skills.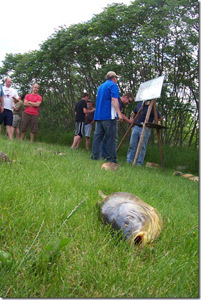 The scene at the weigh-in station is relaxed and fun as carp
and gar are registered in the West Town Archery Bowfishing
competition on Green Bay June 3.
Anyone he said, can be equipped to bowfish for about $30, including compound or recurve bow, arrows and reel. 30-pound pull for kids to 50 or 55 pound pull will handle the task. The bow that Heitman, an employee of West Town Archery, had prepared for this reporter had cost $3.00 at a rummage sale. Had it not been for the person behind the bow we would have really had something effective. It shot perfectly.
Slowly over the last hour, 60 archers who had hunted from boats or waded in their pursuit of carp and gar trickled in to the landing to have their fish weighed. By regulation, all dispatched fish were disposed of by the shooters in a dumpster purchased by West Town Archery from the entrée fees of $15.00 per archer. The competition also fell on the state's free-fishing day, making the need for a license unnecessary. "Every penny of the entrée fees goes to cash payments and the dumpster," Schaffhauser said.
| | |
| --- | --- |
| | |
| Mike Reid of Stevens Point and Cody Towner of Plover did as good any of the 60 archers on Green Bay Sunday as part of the West Town Archery Bowfishing competition. These fish were in the 20-pplus pound class. | Mike Reid of Stevens Point and Cody Towner of Plover watch as West Town Archery co-owner Fred Schaffhauser weighs in and records some of the carp and gar taken on Green Bay Sunday. |
| | |
| Lady's first. Tiffany Kintop of Shiocton shot the largest carp of all 60 competitors on Green Bay Sunday with this 25.1 pound fish. She also walked away with the $250 1st place prize. | West Town Archery co-owner Fred Schaffhauser registers carp and gar in the West Town Archery Bowfishing competition on Green Bay June 3. |
That cash payout included first place and $250 to Tiffany Kintop, 16, of Shiocton for her 25.1 pound carp. Second place and $175 was a 24.8 fish to Tony Fendt of Watertown, and third place and $100 went to our own Rob Schaffhauser. It was the first time that a money fish had been brought in by any of the West Town Archery owners. $40 was also given for largest gar at 1.9 pounds to Keith Bemke of Muskego and to Alex Woosman of Suamco for smallest carp at 6.7 pounds. Money was also given through a raffle. Everyone left for home pleased that a day on Green Bay had played out like a Wisconsin hunt should; with a stark difference that also set a bow fishing hunt completely apart from other archery sports.
"It's socially satisfying," said Schaffhauser. "It's group archery action. We were seeing moving targets on and off, and being tested while we were talking quietly. There's really no other archery shooting sport that allows you to do that. And we were in the fresh air and sunshine with many, many unpredictable targets. It will make your heart jump."
Contact West Town Archery at 414-444-7944 or www.westtownarchery.com.